No matter how much you hate school, there's always another teen-highschool movie that you feel you need to see. Whether that being 80's classics directed by John Hughes or featuring a time travelling Delorean, to the phenomenon of Mean Girls that I think has changed most of our dialogue forever. I love these kind of movies, despite them being so misleading compared to most high school experiences...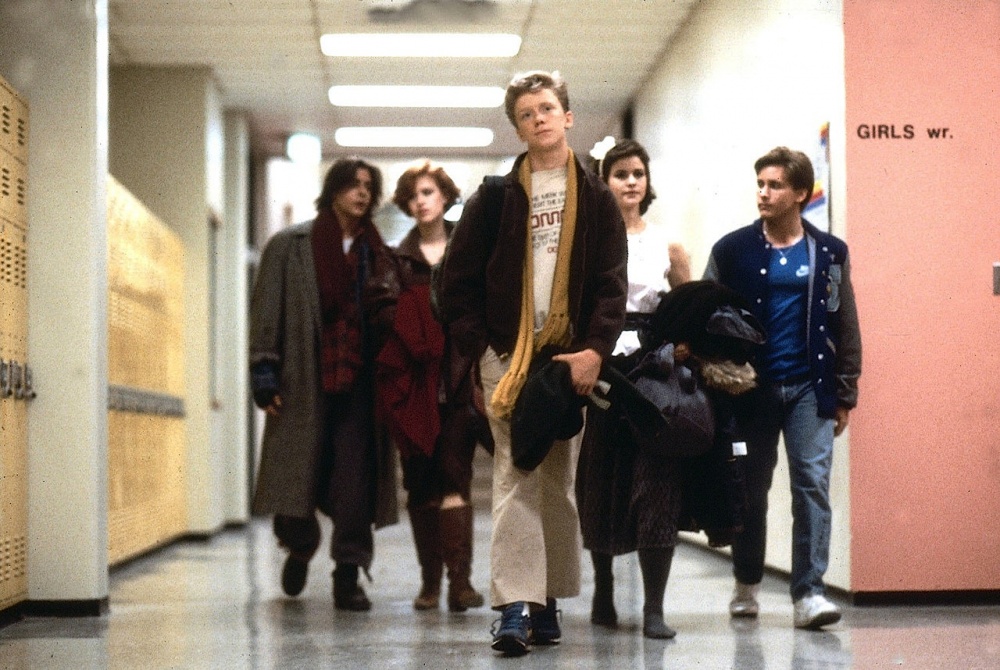 The Breakfast Club (1985)
Ahh, where do I begin persuading those of you who haven't seen to go and see it now. One of my favourites, directed by the iconic John Hughes and starring golden girl Molly Ringwald, you will not find a more perfect 80's movie. Showing a group of teenagers stuck in a Saturday detention, each character shows the different struggles of being a teenager. It's such a great movie and even my parents still remember seeing it back in the day and loved it, so that just shows its enduring popularity.
"You see us as you want to see us - in the simplest terms, in the most convenient definitions. You see us as a brain, an athlete, a basket case, a princess and a criminal. Correct? That's the way we saw each other at 7:00 this morning. We were brainwashed."
Cry Baby (1990)
If you want a definition of the most eccentric/weirdest film ever, then I think I've found it for you. This movie is just plain crazy, but I love it. It mocks the whole idea of 'the teen idol' or 'teen hearthrob' which is what at the time Johnny Depp was becoming, so this movie was his attempt at throwing people off. However 25 years later we are all still in love with him, and this was the movie where the hype surrounding him began.
"Grandmother, Uncle Belvedere, you've made me the happiest juvenile delinquent in Baltimore! And guess what? I met a girl!"
Clueless (1995)
Clueless is just simply a classic. Cher Horowitz is still a style icon today like she was in 1995
"So okay, I don't want to be a traitor to my generation and all but I don't get how guys dress today. I mean, come on, it looks like they just fell out of bed and put on some baggy pants and take their greasy hair - ew - and cover it up with a backwards cap and like, we're expected to swoon? I don't think so."
Foxfire (1996)
Another one of my favourites, however this film is one that NEVER gets talked about EVER. Starring Angelina Jolie pre-Oscar/Brad Pitt/army of children and during her wild child days, this is the ultimate girl gang movie. After beating up an abusive teacher, the girls form a bond that gets the whole town talking. Led by 'Legs' who turns up out of the blue, the girls hide out in an abandoned house, give each other tattoos and steal cars. It's probably the greatest film you've never heard of, so please all you feminists out there watch it now!
"If you ever put your hands on me again, I'm gonna snip your little nuts off
with my toenail clippers!"
Mean Girls (2004)
So how could I not include mean girls? I remember watching it for the first time when I was young enough to not really understand a lot of it, but I loved it. Every friend I've made over the years could probably recite at least half of this movie, which is why its the best 21st century coming of age flick.
"Calling somebody else fat won't make you any skinnier. Calling someone stupid doesn't make you any smarter. And ruining Regina George's life definitely didn't make me any happier. All you can do in life is try to solve the problem in front of you."
I hope you enjoyed this post, and please leave any recommendations below!